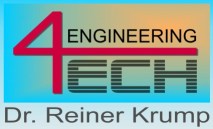 Design and content by 4-Tech-Engineering © 2023
Unix, Google, Zebra, Windows 7/8/10/11/Server and Android are trademarks under CopyRight of the relevant companies.
HISTORY

Back in 1998 we started with the creation of several Windows based office automation tools that were able to support e-mailing and printing processes. In the yet young internet age our product series - including ePostman, Drop2Mail and AutoPrint helped hundreds of users and companies to eliminate time wasting recurring office based procedures.

With the increasing success of AutoPrint we focussed our forces on this product line and officially founded our small base company 4-Tech-Engineering in 2005.
TODAY
Our responsibility is further development of AutoPrint and supporting our valued customers while providing other reliable software solutions that exactly suit even high expectations.
European VAT-Id / Ust-IdNr: DE243792301